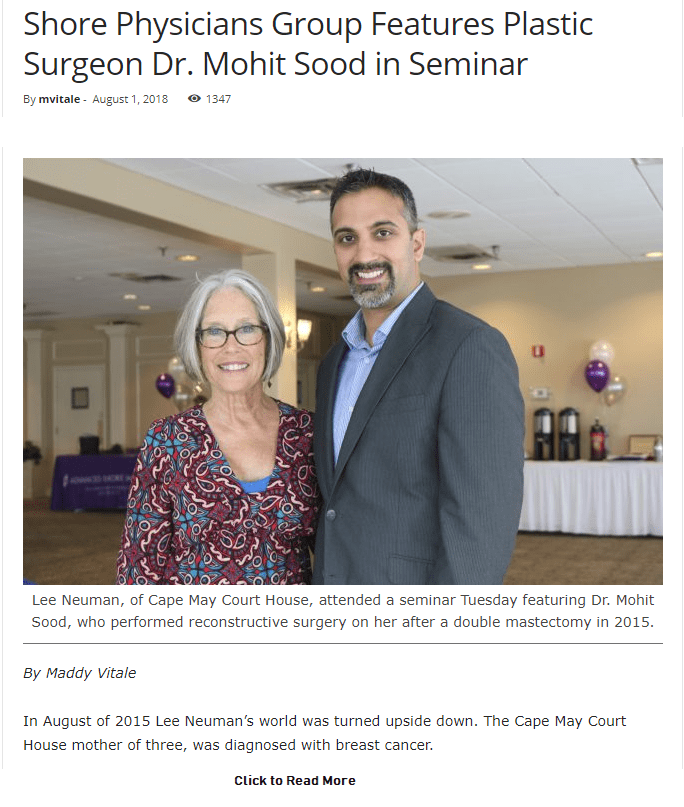 Shore Physicians Group Features Plastic Surgeon Dr. Mohit Sood in Seminar
Read More »
The Benefits Of Microneedling And Collagen Induction Therapy!
Read More »
Platelet Rich Plasma (PRP) In South Jersey
Latest Hair Restoration and Skin Rejuvenation Developments
Read More »
Dr. Mohit Sood was featured on The Harry Hurley Show regarding Breast Reconstruction Surgery.
Read an article from October's issue of the Atlantic County Women's Magazine!
Read More »
Dr. Mohit Sood, a board-certified plastic and reconstructive surgeon provides patients in South Jersey a wide array of treatment options. Watch this video to learn more!
(Please note: Video has no sound.)
Here are a few of our favorite print ads from Atlantic County Woman Magazine and the Atlantic City Press.
Look who was highlighted in the "Women in Profile" in The County Woman Magazine, our very own, Caroline!